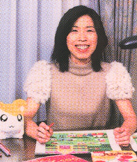 Ritsuko Kawai
About Hamtaro
Hamtaro is an anime(japanese cartoon) based on the manga(comic book) Tottoko Hamutaro by Ritsuko Kawai. Hamtaro is an orange hamster that lives with his owner Laura. Everyday when Laura goes to school, Hamtaro ditches his cage and runs to the local park to meet with his ham-ham friends at their Club House. With a cast of over 20 hams Hamtaro is the most popular hamster show to come out of Japan. Kindergarten - 2nd grade level I'm estimating btw... But the fans are of all ages.


About this Site
Once I saw Hamtaro I was hooked on it. I have a huge fondness of cute things, and wanted to put my love of Hamtaro to good use. When this site was first launched in June 2002, it was among the first English Hamtaro fan sites. Other than just displaying Hamtaro, I wanted to give Hamtaro's fans a place to post their fan works.
Bibliography
Information and several images on this site were taken from the official Tottoko Hamutaro site(http://www.hamutaro.com/). Kodansha's Compact Kanji Guide and Bertliz Japanese Reference Dictionary were used for translation.